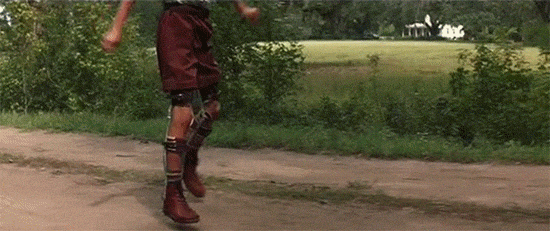 Maybe I'm wrong, exaggerated, lacking in nuance. Some of you know child psychology really well. Am I wrong?
Born in central Minnesota in early 1960, there wasn't a kid I knew who was leashed. I wasn't. Heck, I was walking to Kindergarten all on my own, a whole kilometer or over half a mile, which included crossing the crazy-fast, crazy busy 9th Avenue North. On the first trip, both mom and dad walked with me until we crossed that avenue (only half way), and then just pointed me in the right direction. That was it. I had to find the school and my room in the school up on the second floor all on my own. I learned how to tie my special orthopedic "Forrest Gump" boots (minus the bars, which was my choice) on my own on these trips. My sister showed me once how to do this but I couldn't do it until, of course, I did it myself. I loved this freedom. It gave me lots of confidence. I have lots of stories about all that. But you know what? All went well in the end. Basically, until today, I have no fear about going anywhere at any time. I can't run as fast as Forrest, having about 5 pounds of metal inside the one leg… serves me right for not wearing the metal on the outside of the leg, ever, back then. But I'm not complaining. I compensate for  not being able to run in other ways whenever possible.
But it seems that in most every place in these USA kids are now leashed, and have been for a long time, what with actual laws about kids being leashed lest their parents / guardians / foster-whatevers are jailed for child neglect. This is catastrophic for kids. I don't think that's ever been the case in North Carolina, but elsewhere, I guess so.
On the one hand, some kids are coddled and therefore have zero situational awareness and zero confidence. How can they even cross a street?
On the other hand, some can react by being ultra-super-entitled and violent bullies with zero confidence merely masquerading as power.
On or off. No balance. No reason. No assessment. Where did that come from? What I'm guessing is that, in part, this is about the parents not going to Confession and the kids not going because they don't go to church because their parents don't after the first Confession and first Holy Communion of their kids, if that. No conscience that they know about.
What kept me in line (well, more or less, but pretty well) in view of all the freedom I had was my going to Confession regularly. I had a conscience. Sometimes I fell into sin in being a real brat, but I did have a conscience. I knew what guilt was. And it wasn't a bad thing to have if I did something wrong. I can't imagine not being able to play with the other kids in my neighborhood or in neighborhoods all over my city at that time of 48,000 people, not being able to ride a trike or, later, bike, not being able to climb trees, or plant trees, or crawl through culverts, or get into trouble in construction zones, or ride the elevators of the hospital[!], or visit the elderly in the "Old Folks Home" all on my own just to do it, or pick flowers for mom or for church, or hurtle far above the trees for insanely long distances in seemingly out of control downhill skiing (it was Minnesota, after all), or blow up stuff with firecrackers, or make sometimes huge dams in the gravel roads after and during hard rains, or go camping overnight far from home (many times well over twenty miles away at a lake or up in the forests all on my own with pup-tent and ax and matches and a bit of food, or fly bat-kites in electrical storms and on the edges of tornadoes, or get good with boomerangs in the wind, or get good with bows and arrows and slingshots (homemade mostly), or swim in the Mississippi river, or make jumps for snowmobiles and sometimes crash, or climb out under bridges, or get good on my own with my shotgun (after certification at the VFW) at 12 years of age, or explore abandoned buildings, and airport hangers and fire departments and supermarkets and churches and more churches and yet more churches again (meaning explore!)…
What stuns me is that for some decades now it is almost impossible to find a kid who has been fully trained to serve at the altar who is not scared to death to light a match to light the candles. They can't. They won't. They are petrified. I found this to be true in Australia and Italy and France and in these United States. What goes on in schools? Thank goodness there are now huge propane lighter things for them to use.
Of course, the problem is NOT the kids. It's the parents. They were the no-rules-for-us crowd and they remain so, but they then became control freaks regarding their kids. What's that? And is there a difference between conservative and liberal parents? Ironically, it seems that conservative parents are for freedom and the liberal crowd micromanage absolutely every last detail of everything. Kids are allergic to everything because they've never been exposed to anything. But, as Forrest said about his momma:
You can't control God's permissive or positive will, God's providence. You can't control your guardian angel. What God wants, what our guardian angels want, is that we regularly participate in Confession. Or am I wrong about this, that society has replaced the confessional and conscience with overbearing micromanaging that leaves kids without consciences?