Yeah, sure, like I got plenty of time as a priest to throw all doctrine and morality to the winds so as to open up a lot of blah blah blah dialectical materialism propaganda promoting the denial of the validity of the Traditional Latin Mass, the viability of demon idol worship, the protection of same sex unions for their precious styles of mortal-sin-orgasm, the desecration of the Blessed Sacrament thrown to the pigs, fake-non-repentance-absolutions, etc., etc., etc. Yeah, sure I have time for that… … NO! I don't have time for words structured to profane the Eternal and Living Word of our Heavenly Father.
Did you notice? The Living Truth, Jesus, has no place in all this blah blah blah. None.
Meanwhile, yesterday, I found out more about what the USCCB wants of us priests regarding this heresy of blah blah blah, that is, the Synod on Synodality. Pages and pages of blah blah blah all about blah blah blah.
It wasn't a good time for me to get that in my inbox. No siree. I was up at 1:00 AM to do chores, offer Holy Mass up at church, then take a parishioner to a Veterans Administration hospital hours away, a whole day on my as-always-epic-day-off. Getting back just at nightfall, just trying to finish the Breviary before conking out… riiiiiiiing… riiiiiing…. "[name] is in the ICU, Father." "I'm on my way." That was in the neighboring town 15 miles away one way. Last rites. I was destroyed by the time I got back, but really happy as a priest. This is what I live for. Totally. I love it. I did get a bit upset though… thinking on the way back about all the blah blah blah that those ecclesiastics are dreaming up for priests who are actually busy with the Lord's Little Flock. But… blah blah blah blah blah blah blah. That's it from them. How I would like to reprimand them, like, out loud for God and the world to witness, as a kind of vengeance for the souls of the Lord's Little Flock.
Just then, while driving on the dark back road past Vengeance Creek (a real place), I just up and laughed out loud all alone in my car – except for my guardian angel – laughing out loud kind of like this: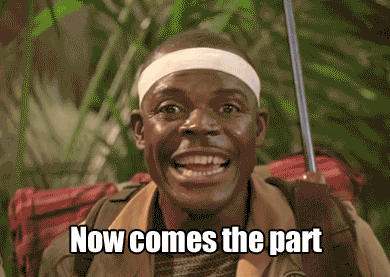 The cause of the laughter? It's because of a Jesuit, actually, you know, way back in the day, who came to mind, surely the work of my guardian angel:
From the letters to Saint Ignatius by Saint Francis Xavier, priest
(E Vita Francisci Xaverii, auctore H. Tursellini, Romae, 1956, Lib. 4, epist. 4 [1542] et 5 [1544])
Woe to me if I do not preach the Gospel
"We have visited the villages of the new converts who accepted the Christian religion a few years ago. No Portuguese live here—the country is so utterly barren and poor. The native Christians have no priests. They know only that they are Christians. There is nobody to say Mass for them; nobody to teach them the Creed, the Our Father, the Hail Mary and the Commandments of God's Law. I have not stopped since the day I arrived. I conscientiously made the rounds of the villages. I bathed in the sacred waters all the children who had not yet been baptized. This means that I have purified a very large number of children so young that, as the saying goes, they could not tell their right hand from their left. The older children would not let me say my Office or eat or sleep until I taught them one prayer or another. Then I began to understand: The kingdom of heaven belongs to such as these. I could not refuse so devout a request without failing in devotion myself. I taught them, first the confession of faith in the Father, the Son and the Holy Spirit, then the Apostles' Creed, the Our Father and Hail Mary. I noticed among them persons of great intelligence. If only someone could educate them in the Christian way of life, I have no doubt that they would make excellent Christians. Many, many people hereabouts are not becoming Christians for one reason only: there is nobody to make them Christians. Again and again I have thought of going round the universities of Europe, especially Paris, and everywhere crying out like a madman, riveting the attention of those with more learning than charity: "What a tragedy: how many souls are being shut out of heaven and falling into hell, thanks to you!" I wish they would work as hard at this as they do at their books, and so settle their account with God for their learning and the talents entrusted to them. This thought would certainly stir most of them to meditate on spiritual realities, to listen actively to what God is saying to them. They would forget their own desires, their human affairs, and give themselves over entirely to God's will and his choice. They would cry out with all their heart: Lord, I am here! What do you want me to do? Send me anywhere you like—even to India."
Hahaha. I love the saints. But instead, we have the The Heresy of Blah Blah Blah™. I'm sick of it. I don't have time for it. I think good old Saint Francis Xavier would've about taken the head off any priest or bishop who would instead tell him that he should be concerned about blah blah blah blah blah, and not concerned about Jesus and the sacraments. Lemme tell you. People know all about blah blah blah. That's all they get. From their priests they want Jesus and the Sacraments, no blah blah.
And if anyone thinks this is disrespectful of The Blah Blah Synod™, know this, I'll have a reprimand for you along the lines of Saint Francis Xavier. After all, the saints are not to be heroes that we put on a pedestal and say they're great and I'm great for saying they're great. That would get us condemned by Jesus for building the tombs of the prophets while we kill the prophets in this way, giving ourselves a license to kill.
Instead, the saints are to be invoked that we might strive to follow their example whatever the cost to ourselves.
Will I get in trouble with, say, the USCCB or the Holy See for saying the Synod on Synodality is the Heresy of Blah Blah Blah™? Maybe. Just more blah blah blah.